The Westbrook Public Library offers access to a variety of resources. If you have any questions, please contact the library at (860) 399-6422 to speak with a staff member.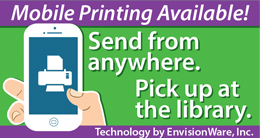 See below for description of the above linked resources.
Resources in the Library
Library Passes
Connecticut River Museum (admits 2 adults, 2 children)
Connecticut State Parks (waives entrance fees for 2 adults & 4 children)
Custom House Maritime Museum in New London
Florence Griswold Museum (admits 2 adults & 2 children under 12)

Hill-Stead Museum – Library Pass program not currently available.

Mark Twain Museum

Mystic Aquarium – Library Pass program not currently available.

Mystic Seaport (50% Off – admits 2 adults & 3 children, day specific)
New Britain Museum of American Art (admits 4 people)
New Haven Museum & Historical Society (admits 4 people)
Niantic Children's Museum (50% Off for up to 4 people)

Norwalk Maritime Aquarium – Library Pass program not currently available.

Old State House Hartford (admits 2 adults & 2 children)

Peabody Museum at Yale – Closed for renovations.

Pequot Museum – Library Pass program not currently available.

Roger William Park Zoo in Providence ($3 Off up to 4 tickets)
Shore Line Trolley Museum (50% Off – up to 6 people)

Wadsworth Atheneum – Library Pass program not currently available.
The Library offers free use of the library edition of Ancestry.com. Accessible at the library, the library edition allows users to access genealogy materials from around the world.
The United Way 211 service can help you find utility assistance, food, housing, child card, after school programs, elder care, crisis intervention and more.
---
Resources for the Town of Westbrook:
Westbrook Emergency Management
Westbrook Early Childhood Council
Westbrook Youth and Family Serices
---
Online Resources
LION
Libraries Online, Inc. is a consortium of library institutions committed to the promotion and extension of quality library resources and services. Through shared technology LION provides its members and their users with cost-effective automated services, easy access to a high quality bibliographic database, and easy access to other information resources.
Overdrive
Through LION, Westbrook patrons have access to thousands of e-books and audiobooks that work on a multitude of devices. Create or use your LION account to read books from your electronic devices. Please contact the library with any questions.
ResearchIt
ResearchIT CT offers free online resources as a service of the CT State Library.  Here you will find journal, magazine, and newspaper articles for Connecticut public, K12, and academic libraries and their users.
FindIt
This state systems allows patron from any Connecticut library to search for and request materials from other libraries. If you cannot find what you are looking for in LION, try searching here or call for assistance. To request an item that is outside of LION, please call or fill out this form.
JobNow
Need help with test preparation, school work, or finding a job? Then use Job Now for free access to a variety of resources to help you excel in your schooling and career.
Learning Express
Learning Express is a great free resource to help you prepare for any level of education with test preparation, citizenship tests, vocational tests, computer software training, or if you just need to brush up on your skills.
Mango
Mango Languages is an online free language learning program for English speakers to learn over 60 different languages or 20 different non-English languages to learn English. You just need your library card to sign up.